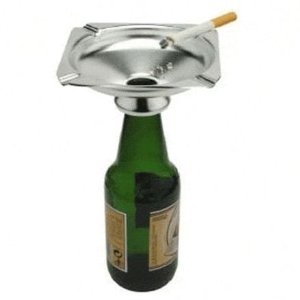 De eerste barbecue van het jaar was weer een fiasco.
Overal lege bierflesjes, peuken hier, peuken daar, peuken overal. Dronken mensen die zich tegoed doen aan halflege bierflesjes vol met peuken… (niet dat dat niet lachen was!!!)
De tweede verliep iets georganiseerder. Mede dankzij onze nieuwe "flessenhals asbak".
Ash Trap verandert elke fles in een asbak.
De "Ash Trap bottle top ashtray" is een stijlvol en handige asbakje uit aluminium.
Je schuift het ding eenvoudig over elk leeg flesje bier of frisdrank en je hebt onmiddellijk een asbak.
Een paar asbakken van Ash Trap op uw tuinfeest en alle assen en peuken verdwijnen netjes in gebruikte flesjes. Ideaal voor party animals of studentjes om miserie te vermijden, daarmee bedoel ik ouders, huisbazen,… die nooit zullen weten wat je allemaal uitgespookt hebt!
Steek het vuur nog maar eens aan.